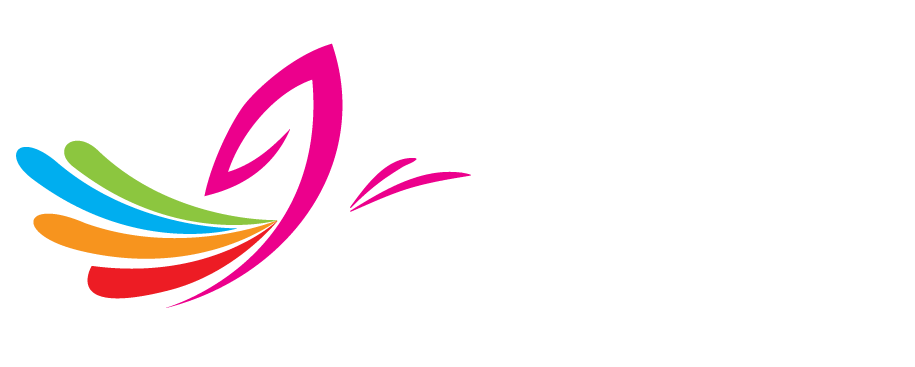 RGB Lighting effects for FINAL FANTASY XIV
Immerse yourself in FINAL FANTASY XIV more!
Chromatics is a lightweight third-party companion app which connects FINAL FANTASY XIV with Razer Chroma, Logitech & Corsair RGB devices. Additionally it enables off-screen compatibility with the Logitech ARX mobile app.
Display Vital Stats
Your RGB enabled keyboard will display your HP, MP, TP and other vital stats across easy to see keys so you always have a visual indication of your stats.
Enemy Target Information
Displays target HP and enmity data as various effects across your devices. See how hostile an enemy is before you engage it and keep track of your hate with various alerts.
Hotbar Management
Displays per-keybind lighting feedback on each of your keybinds to show when your actions are ready to use or in combo/proc.
ACT Integration
Chromatics integrates with Advanced Combat Tracker so you can visualise your battle stats, create visual trigger/timer effects or track a battle's enrage time on your devices.
Smart Bulbs Supported
Chromatics supports a range of Smart LED lighting including LIFX and Philips HUE.
Integrations
Support for sending notifications to Google Home/Chromecast and IFTTT. Or use HTML/JavaScript to create custom views within Logitech ARX and make your own plugins or browse other's creations.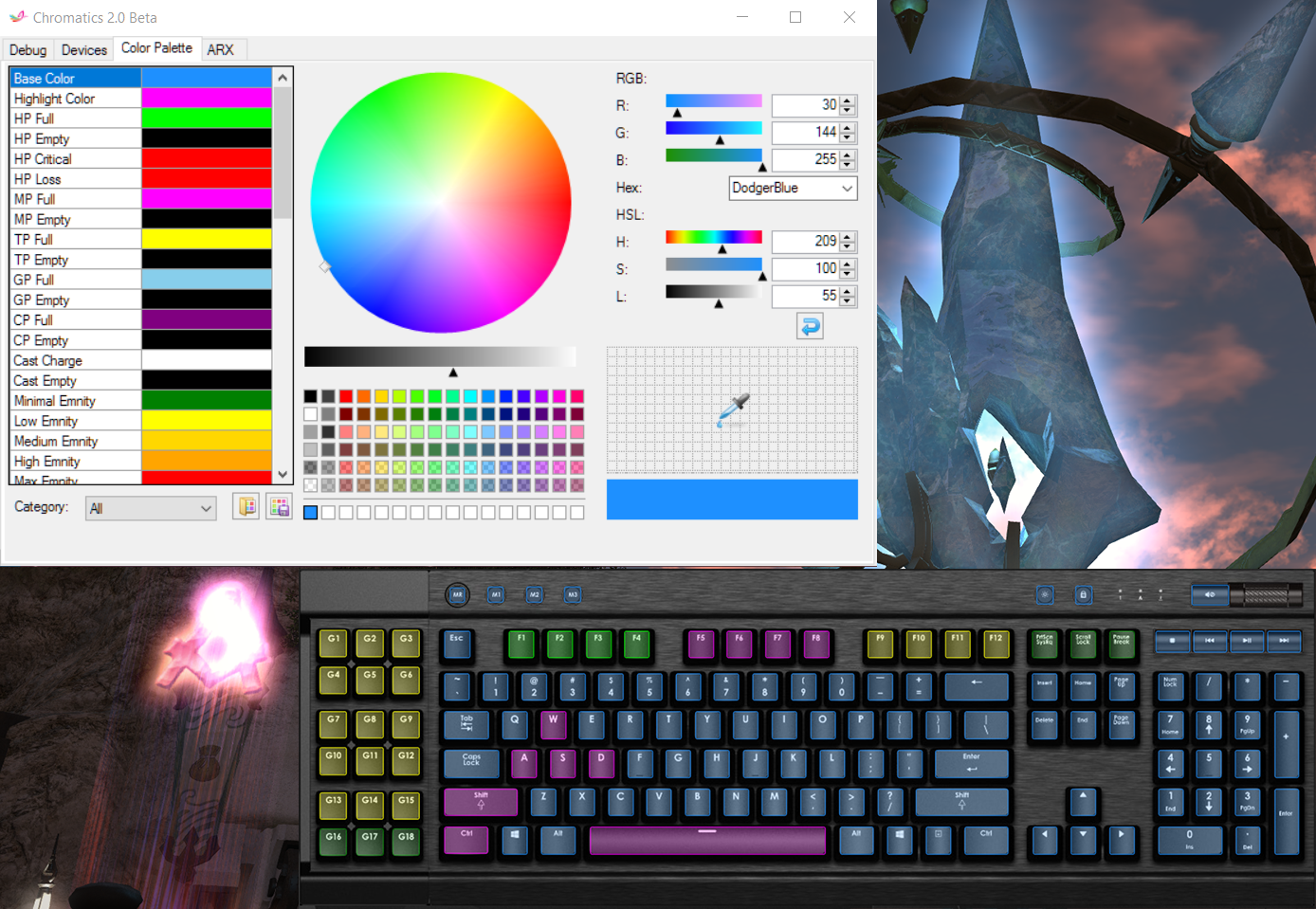 Fully customizable color palettes for FINAL FANTASY XIV
Use our palette customising tool in Chromatics to fully setup how you want your RGB devices to interact with the game. You can even import/export your palettes to share with your friends!
Off screen information on your mobile or tablet using Logitech ARX.
Using Logitech ARX you can setup custom screens on your portable devices to monitor vital information in the game. Set this up next to your PC so you can de-clutter your HUD.
Get Logitech ARX
Custom Plugins Available
Build your own plugins or browse others creations with fully intergrated game-data to get additional views and data on your portable devices. Browse our plugins page or start developing now! All you need is HTML and JavaScript knowledge.
Chromatics RGB Device Compatibility
Select a Manufacturer to the right to check if your device is supported by Chromatics.
Can't see your device or see an error in the below list? Please contact us to check compatibility.

Device is fully supported

Device is supported, but has limited functionality

Device might be supported but hasn't been tested

Device is not supported

Razer Cynosa Chroma

Razer ChromaLink

Razer HDK

Razer Blade 2018 Series

Razer Blade Series

Razer Ornata Chroma

Razer BlackWidow Chroma V2

Razer BlackWidow X Chroma

Razer BlackWidow Chroma

Razer DeathStalker Chroma

Razer Mamba Chroma

Razer DeathAdder Chroma

Razer Naga Epic Chroma

Razer Naga Chroma

Razer Naga Hex Chroma

Razer Orochi

Razer Man O' War

Razer Kraken V2 Chroma

Razer Kraken 7.1 Chroma

Razer OrbWeaver Chroma

Razer Tartarus Chroma

Razer Firefly Chroma

Logitech G213 Keyboard

Logitech G910 Keyboard

Logitech G810 Keyboard

Logitech G610 Keyboard

Logitech G410 Keyboard

Logitech G710 Keyboard

Logitech G13 Keypad

Logitech G105 Keyboard

Logitech G203 Mouse

Logitech G403 Mouse

Logitech PRO Mouse

Logitech G900 Mouse

Logitech G502 Mouse

Logitech G203 Mouse

Logitech G402 Mouse

Logitech G302 Mouse

Logitech G700S Mouse

Logitech G600 Mouse

Logitech G300S Mouse

Logitech G640 Mousepad

Logitech G933 Headset

Logitech G633 Headset

Logitech G560 Speakers

Corsair K95 RGB

Corsair K70 RGB

Corsair STRAFE RGB

Corsair K65 RGB

Corsair K70

Corsair STRAFE

Corsair K65

Corsair K55

Corsair K40

Corsair K30

Corsair HARPOON RGB

Corsair KATAR

Corsair SABRE RGB

Corsair M65 PRO RGB

Corsair VOID WIRELESS RGB

Corsair VOID USB RGB

Corsair MM800 RGB POLARIS

Masterkeys Pro L RGB

Masterkeys Pro M RGB

Masterkeys Pro S RGB

MasterMouse Pro L

MasterMouse S

LIFX GEN 3

LIFX GEN 2

LIFX Original

LIFX Z Strip

Philips HUE - Requires Razer Synapse 3
Join our Support Discord
To talk with the developers, join our support discord here and get in touch!
Found a Bug?
Get onto our GitHub and report that sucker so we can fix it!
Need Help? Got Ideas? Want to Share something?
Holla @logicallysynced if you've got more questions and we'll do our best to answer.